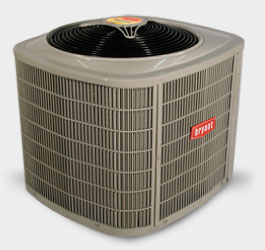 We want to be your ONE call for all your Plumbing, Heating & Air Conditioning needs!
Come to our office to see a working version of the most advanced, highest-efficiency Heating & Cooling systems.
This is something everyone who has an  air conditioning system or heat pump over 8 years old should be aware of,  the price of the refrigerant that is most likely in your system R-22 has skyrocketed in the past several years and is only getting worse.  This refrigerant will soon be phased out, the price companies s are charging range between $75.00 to over $100.00 a pound some systems hold as much as 15 to 17 pounds.  The time is now to update your inefficient equipment to a new high efficiency R410 A ozone friendly system.  Don't wait till it's hot to find your in trouble call now and we will let you know what is best for you.
Rebates are back and now they are instant rebates the rebate comes right off your price. Rebates ranging from $500.00 to $1,100.00 and up depending on the system you choose.  PECO rebates are still in effect.
How can a plumbing and heating service call get you more cash at tax time? Find out on our
specials page
.
Voted Best of Bucks Mont.  Plumbing, Heating and Air Conditioning 2013
We service Air Filters, Central Air-Conditioning and Heat Pumps, Drain Cleaning Service, Faucets, Fixtures, Garbage Disposals, Humidifiers, Oil & Gas Heating, Plumbing Contractor, Residential and Commercial Plumbing Service, Stall Shower and Tub Enclosures, Sump and Sewage Pumps, Water Filters, Water Heaters, Water Treatment, Well Pumps.