Rebates  Select Bryant Rebates are back now through June 30th receive up to a $1000.00 instant rebate on select items.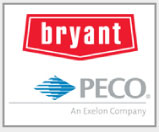 PECO rebates up to …………………………….… $400.00 for a heat pump and up to $600.00 for a new 97% gas furnace and 17 SEER air conditioner  See www.peco.com/smartideas
This means you could have up to $1,400.00 or more of your system paid for in rebates. Plus the money you will be saving on one of the highest efficiency systems on the market today, the Bryant Hybrid Heat System.
Please call our office for more information to know how much you can save.
We have added The Burnham boiler Co. to our choice of boilers.  The company is based right here in Philadelphia and has been an excellent addition to our line of oil and gas boilers.
www.burnhamboiler.com
If you are interested in a super high efficiency gas boiler the Burnham Alpine boiler will give you a 97 % efficency rating compared to 80% on most conventional boilers and add a Burnham indirect water heater and you will not only get unlimited hot water but enjoy tremendous savings on making hot water.